15 Set

WeWomEngineers vola a Tampere! Ospiti nella sessione Women in Engineering

Oggi vi raccontiamo l'esperienza che abbiamo vissuto in parte a distanza ed in parte vicine durante la Conferenza congiunta della Conference Europea di Ingegneria Medica e Biologica (EMBEC) e della Conference Nordico-Baltica sull'Ingegneria Biomedica e la Fisica Medica (NBC),  svoltesi a Tampere in Finlandia.

Dal sito http://embec2017.org/
Il nostro ponte si chiama Rossana Castaldo
E proprio lei ci racconta la sua avventura con WeWomEngineers
"" Dal 11 al 15 Giugno ho partecipato alla Conferenza congiunta della Conference Europea di Ingegneria Medica e Biologica (EMBEC) e della Conference  Nordico-Baltica sull'Ingegneria Biomedica e la Fisica Medica (NBC), a Tampere, Finlandia. Queste due note conferenze sono state sponsorizzate dall' International Federation for Medical and Biological Engineering (IFMBE) e per la prima volta sono state affiancate per dar vita ad una conferenza cross-disciplinare.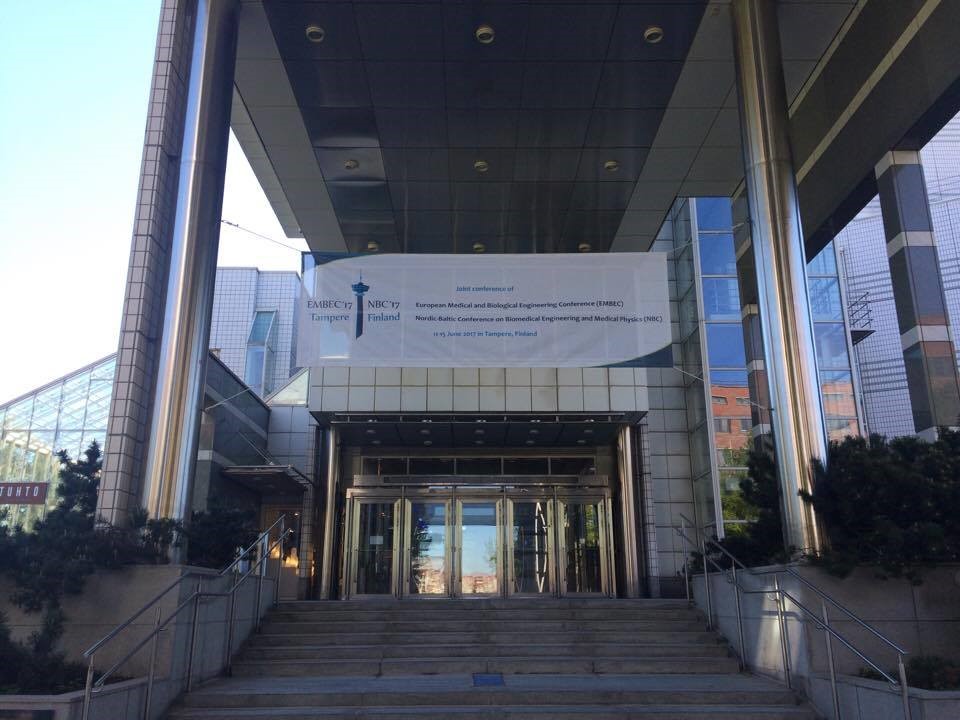 Tampere Hall, EMBEC'17 & NBC'17
Nel 2015 avevo già partecipato alla mia prima grande conferenza,  il World Congress on Medical Physics & Biomedical Engineering a Toronto.
Anche qui, a Tampere, l' esperienza vissuta è stata molto emozionante. Ho avuto la possibilità di presentare il mio lavoro ed ampliare le mie conoscenze nell'ambito dell' ingegneria biomedica, incontrando molti professionisti ed appassionati scienziati.
I temi di questa conferenza erano molteplici, ne cito qualcuno che mi ha colpito :
Biofabrication
Robotic and Rehabilitation
Biomaterial
Biosensing and biosignal Analysis and Processing
e tanti altri!
C'erano anche moltissime sessioni speciali sui topic più hot del momento come Micro- and Nano-bioengineering, Wearable and Implantable Systems e Virtual Physiological Human. Data la grandezza della conferenza, molte sessioni erani in parallelo e purtroppo era quasi impossibile seguirle tutte! 🙂
Era prevista nel programma della conferenza una sessione molto particolare…dedicata alle Donne IngegnerE.
Ho partecipato alla sessione Women in Biomedical Engineering.
Al congresso di cui vi accennavo prima, a Toronto conobbi il team di Women in Biomedical Engineering.
Entrai subito a farne parte e tutt'ora mi impegno per sostenere e divulgare le professioniste di questo settore.

WiMBE committee (front row, from left to right): Loredana Marcu (Romania), Birgit Glasmacher (Germany), Monique Frize (Canada), Lenska Lhotska (Czech Republic), Tania Aznielle (Cuba), Pech Ha Khoo Tan (Singapore), Gilda Barabino (USA), Penny Martens (Australia) , Terri Fong (Hong Kong), Eleni Kaldoudi (Greece) (second row left to right): Jorge Castro (Cuba), Maria Siebes (Netherlands) Eva Bezak (Australia), Nicole Ranger (USA), Rossana Castaldo (UK), Anna Worm (Netherlands & developing countries), Salome Mwaura (Kenya)
WiMBE ( Women in Medical and biomedical engineering ) e' stato creato nel 2004 per:
Aumentare la visibilità e la partecipazione delle donne all'interno dell'IFMBE
Cercare nuove idee per migliorare il clima delle donne nell'IFMBE e sul posto di lavoro
Raccogliere e diffondere informazioni riguardanti lo status delle donne in MBE
Oltre a essere parte del WiMBE, faccio anche parte del committe Athena Swan all' University of Warwick per promuovere la "gender equality" nel mondo lavorativo e non.
Prima di partire per la conferenza, sono entrata in contatto con Manuela Appendino una delle fondatrici di WeWomEngineers (WWE) .
WeWomEngineers è un' iniziativa giovane, frizzante e le ragazze hanno tanta voglia di fare e arrivare. Insieme abbiamo pensato di preparare una presentazione da mostrare durante la sessione su Women in Biomedical Engineering a Tampere, con lo scopo di far conoscere e condividere con altre giovani donne le idee di WWE.
L'idea di divulgare questa iniziativa per ora solo italiana nasce dal desiderio di  farla diventare worldwide per condividere con altri giovani donne l'idea di WWE , avere feedback e suggerimenti su come ampliare l'iniziativa.
Il 14 Giugno alle 10:00 la sessione su  Women in Biomedical Engineering  inizia con un talk, presentato dalla chair (Eleni Kaldoudi) del WiMBE,  sugli ideali e propositi condivisi dal  WiMBE committee.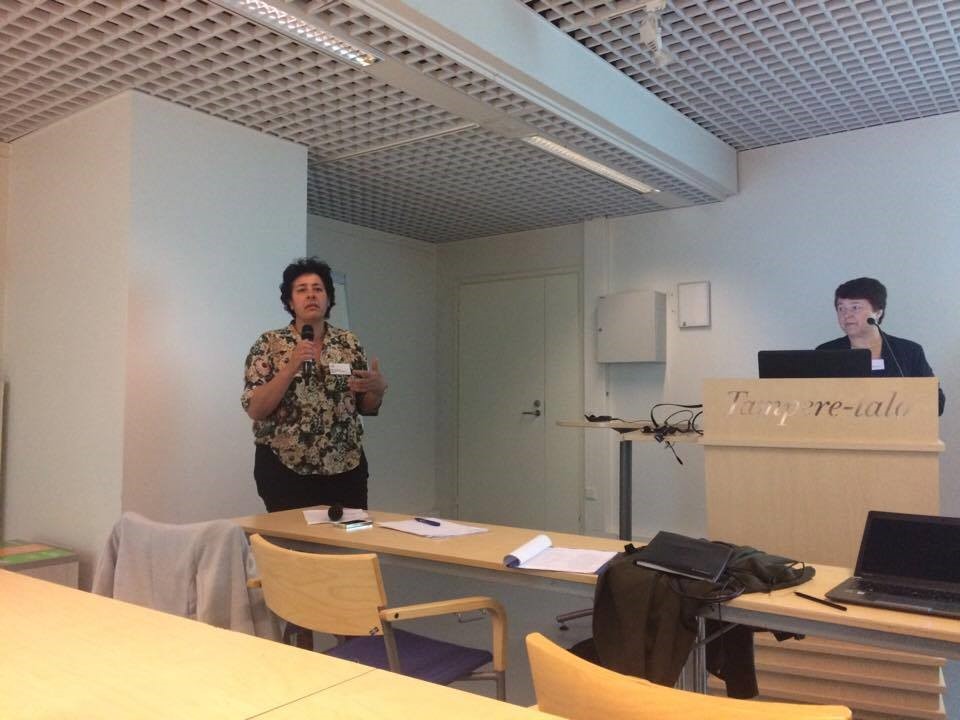 Eleni  Kaldoudi, talk introduttivo su WiMBE
A seguire, due presentazioni molto interessanti:
Engineering programs in Iceland – atypical gender ratio in biomedical engineering presentato da Thordur Helgason e Haraldur Audunsson
Gender ratio in biomedical engineering in Czech Republic presentato Lenka Lhotská
E per finire, io con le WeWomEngineers – the WWE Initiative !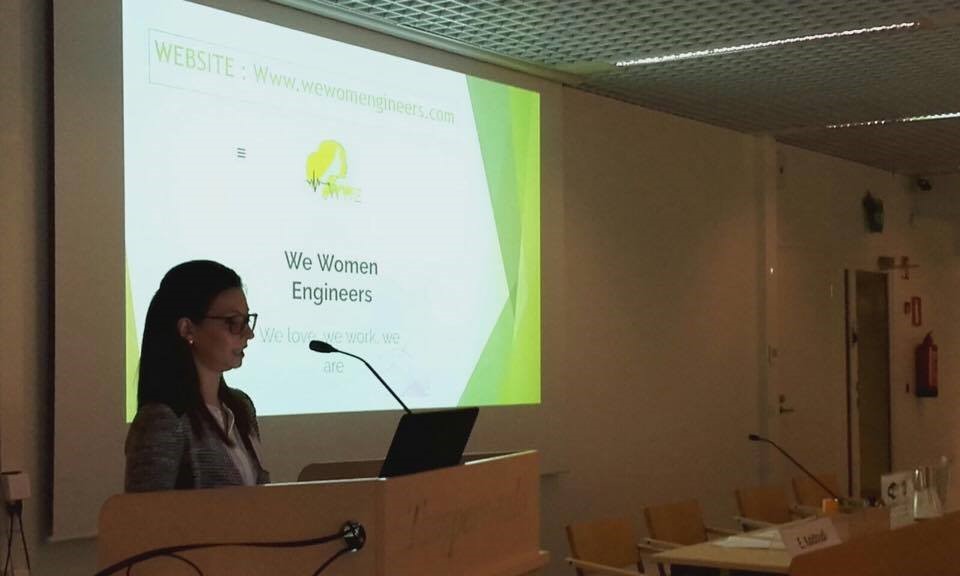 Io & WWE iniziative
La presentazione e' stata un successo, le persone erano super interessate e ascoltavano con attenzione quello che illustravo. Ho cercato di evidenziare l'aspetto  dinamico e nuovo dell'iniziativa formata da donne che amano quello che fanno e cercano di divertirsi allo stesso tempo!

Women in Biomedical Engineering in Europe Session
Molti sono stati gli interventi dopo la mia presentazione:  Monique Frize, una donna eccezionale per carriera, impegno e partecipazione all' interno dell WiMBE, si e' congratulata con la frizzante iniziativa ed ha proposto di ampliare la reach, investendo anche all' esterno in un  panorama europeo.
Eleni  Kaldoudi ha commentato con una semplice ma potente frase : "there was fun all over the place".
Questa frase ha aperto una discussione nel networking lunch alla fine della sessione, in quanto  sia nel mondo accademico che in quello lavorativo si tende ad essere troppo seri, senza riuscire ad avere "fun" in quello che si fa ogni giorno.
Penso che bisogna essere prima di tutto delle persone che credono nel proprio lavoro e che lo amano appassionatamente.
Di sicuro, ognuno di noi vive periodi pieni di difficoltà e questo potrebbe farci perdere quel brio che invece ci distingue come donne, mamma e mogli.
E' stata una bellissima esperienza lavorare con Manuela  e se sono riuscita a  portare un passetto in avanti WWE  ne sono felice.
Vi lascio con questa frase
" Siate il meglio di qualsiasi cosa siate "
Martin Lhuter King ""
Noi ringraziamo Rossana per aver deciso di collaborare e scegliere la nostra esperienza italiana.
Crediamo che sia importantissimo sentire le storie degli altri, assaporarne l'entusiasmo comune e porsi obiettivi futuri da raggiungere insieme!
Per curiosità, commenti, collaborazioni —–> info@wewomengineers.com
Manuela 🙂